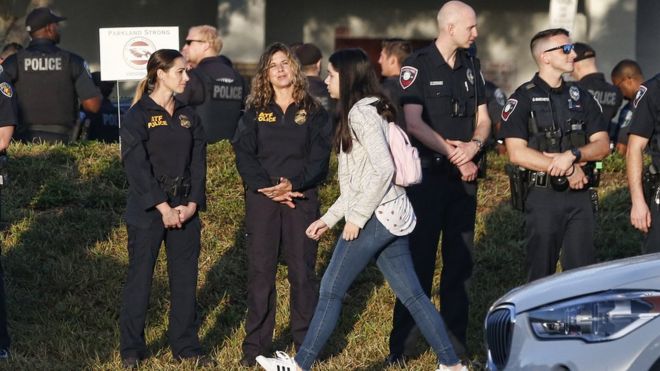 As students at the Florida school where 17 people were recently killed returned to classes, a major gun retailer has announced it will completely stop selling the kind of weapon used in the attack.
Dick's Sporting Goods, which has more than 600 shops, said it would no longer sell assault-style rifles, and backed "common sense gun reform".
The move came as pupils and teachers made an emotional return to Marjory Stoneman Douglas High School.
Grief counsellors were on hand.
In the aftermath of the 14 February shooting, pressure has mounted on US politicians to act on gun control and for corporations to cut ties with the powerful National Rifle Association (NRA).
Firms including Hertz car rental, United airlines and Delta airlines have ended discounts to NRA members.
Dick's Sporting Goods announcement also came as Florida lawmakers proposed a package of gun control measures, including a controversial bill to arm school staff, including teachers.
"We have tremendous respect and admiration for the students organising and making their voices heard regarding gun violence in schools and elsewhere in our country," Dick's Sporting Goods said in a statement. "We have heard you. The nation has heard you."
The retailer said it was committing itself to:
No longer selling assault-style rifles (The company had stopped selling such weapons after the 2012 Sandy Hook shooting but 35 shops run by a subsidiary had continued to do so.)
Banning the sale of high-capacity magazines
Not selling firearms to anyone under 21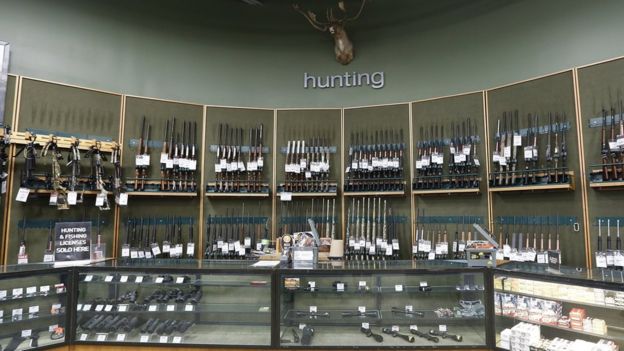 It said that while it supported the Second Amendment to the US Constitution, which protects the right to keep and bear arms, "gun violence is an epidemic that's taking the lives of too many people".
read more  http://tinyurl.com/y7yjphsm